Get your copy today!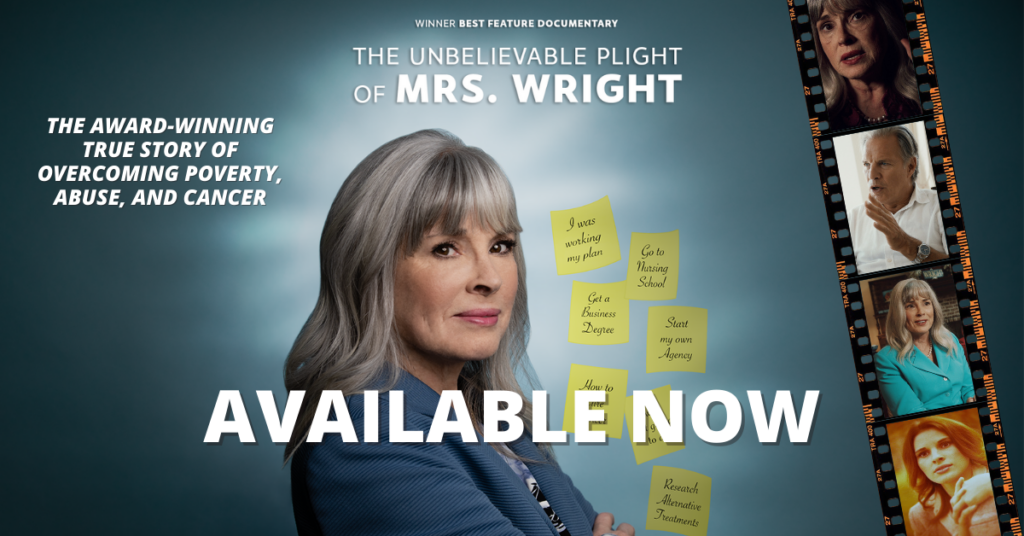 Diana Wright, ND, is excited to announce that the award-winning documentary, The Unbelievable Plight of Mrs. Wright, is being released worldwide today.
If you would like to review the film or schedule an interview, please email Taisa Palmeira at [email protected]
Scoring over 60 awards and nominations in the film festival circuit (IMDB page), this film tells the true story about the life of Diana Wright, a woman who overcame poverty, abuse, and childhood trauma to become a nurse, a CEO, and a successful business owner. However, those incredible accomplishments meant nothing when she was diagnosed with Stage IV cancer and given only a few months to live. This is her journey away from conventional medicine, curing her cancer, and going on to become a naturopathic doctor.
Diana hopes that her film, The Unbelievable Plight of Mrs. Wright, will bring nationwide awareness to alternative options for cancer care, urge abuse survivors to beat the statistics, as well as inspire female leaders in the business world.
In the pandemic society we now endure daily, learn how one woman empowered herself to find health answers, and how you also can find the right solutions for you.  Look for the film on the following platforms: 
Diana Wright is a naturopathic doctor, author, entrepreneur, and cancer survivor who loves sharing her knowledge with others. Dr. Diana is available for interviews on a myriad of subjects, including her film or any health-related concerns such as COVID-19.